today color me:
color me today:
anticipating
Thursday, July 14, 2011
Using a small fluid brush, I draw my shapes and negative spaces. I use my dark colors only. And, I don't worry about detail at all.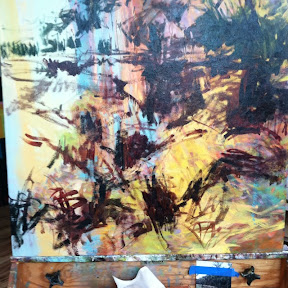 Keep it juicy Lucy.
- xoxo Lori
Ok. I admit it. This is one awful painting.
It has been sitting around in my studio for a while. As I was shuffling through canvases to find the right size, I came across this one. I decided this is the day to tackle it. To start, I abraded the surface slightly and wiped it with mineral spirits. Then I studied it! NOPE, it pretty much sucks. Oh well, I think it should be the unexpected in another painting. Sometimes, starting on an old piece, allows random things to pop through that I really like. We will see.
By the way, I turned it just so I wouldn't end up being influenced by the base. I'll keep you posted.
- xoxo Lori